Staff

AARON GROSS
Senior Pastor
Office: 574-753-6841
E-Mail:
Pastor Aaron and his wife Peggy have been apart of the staff of LCB since 1998. His personal mission statement is, "to educate, equip and empower God's people to live out biblical principles on a daily basis." He believes that long term ministry in one congregation has many benefits. Pastor Aaron and Peggy have continued to serve at the church and in the community of Logansport. Pastor Aaron has three children and also teaches for Wesley Seminary at Indiana Wesleyan University.
---
MIKE OSBORN
Family Life Pastor
Office: 574-753-6841
E-Mail:
Pastor Mike and his wife Veronica have been ministering at LCB since 2002. Pastor Mike has been working with children and youth since his inception. His passion is for Kidstuf and Pkstuf; two of our children's ministries. He is also the director of the Kids Connection Daycare that is ran out of the church. He is also leads Celebrate Recovery, our ministry on Friday nights for Hurts, Habits, and Hang-ups. Pastor Mike has four children and is a life-long member of Logansport.
---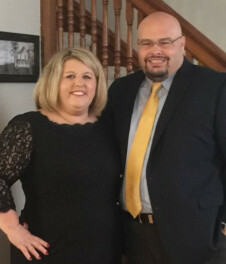 Scott Halterman
Director of Discipleship
Office: 574-516-7168
E-Mail:
Pastor Scott and his wife Tasha have been ministering at LCB since 2019. Pastor Scott has been working with our men's ministry, men's discipleship program, and our worship team. He has also been the leader of our Deepen branch here at the church. Pastor Scott has three daughters and is an avid sports fan.